Travelling from Sydney Australia to Mainland China on a Visitor Visa
Persons living in Sydney Australia can apply for a Mainland China visitor visa to travel to and visit China. Usually, the travel visa will be limited to 30 days maximum, and once granted you must enter China within three months from the date of Visa grant. 
In this article we explore the process of how to lodge your visa application from Sydney Australia to go travel to and visit Mainland China. The process begins by completing the application form online. Once the application form is complete, you will have to attend an in-person appointment at a China Visa centre. 
The below contains information directly relevant to those applying directly from Sydney Australia. However, do note, the similar may be similar when applying from other countries.
Application Form to visit China from Sydney Australia
To commence the process in obtaining a visitor visa to Mainland China from Sydney Australia, you need to click and complete the New Application form on the visa for China website that can be found HERE.
The application form is broken down in 12 steps. These steps are 1 the introduction section, 2 personal information, 3 application information, 4 work information, 5 education section, 6 family information, 7 travel information, 8 travel information in the past, 9 other information, 10 mailing information, 11 declaration review, and the final section 12 gives you the chance to print your completed application form. You can save you application at any stage, shall you wish to come back to it another time.
Appointment for visa application submission to travel from Sydney Australia to Mainland China
Once you have completed the application form, you then have to book in for an in-person appointment. You do this by clicking 'Appointment (Application)' on the same page HERE. You will then be able to book in a day and time where you go to the appointment. At the moment, applications are run at the China Visa center on William Street in Kings Cross. However, there is potential for location changes, so always consult the website.
Before you go to your appointment, it is advisable you have all your travel and accommodation bookings printed out to provide, as these will be used in assessing your application, including length of stay. Usually depending on your booking dates, these will be the dates that the visa you are issued will be valid for. As mentioned above, usually the maximum stay time for a tourism visa is 30 days, and you must enter Mainland China within three months from grant of visa.
Your passport will remain with the China Visa service center until the visa has been approved and placed into your passport for you to come back and pick up.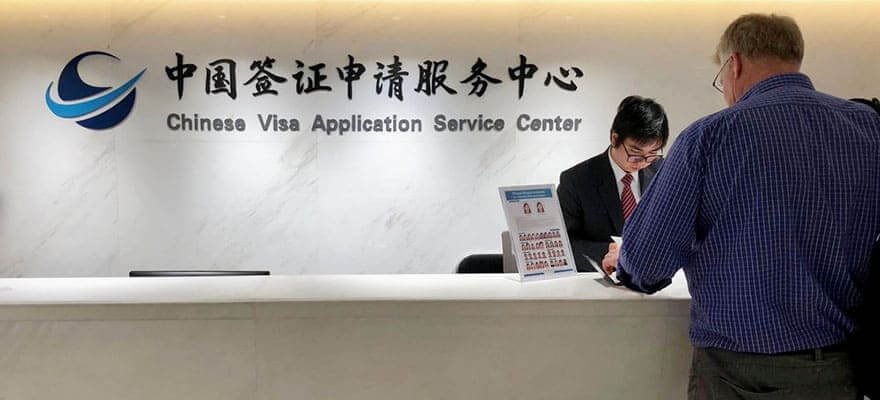 Final step in process for applying for visitor visa to travel from Sydney Australia to Mainland China
Once you have filled in the application form, and attended your appointment, the next stage is to go back to the service center once you have been notified of the Visa approval or decline, to pick up your passport containing the visa and make payment. You will have to make payment before your passport is returned to you.  Usually, payment for the visa will range in between $50 – $100 AUD.